Well a week on sunday British "SUMMER TIME" begins and the clocks go forward, however you really wouldn't have thought that today. I woke up this morning as did millions of others and sighed in frustration at the sight of a snow covered street.
At 10am North Ferribys match at home to Ashton united was called off, as the morning went on more and more matches were postponed until eventually the match at FCUM was the only one to survive in the Northern Premier League. It was another frustrating day and has led to calls by some teams for an extension to the league season.
You may think this was down to frozen or snow covered pitches however for the postponements of Kendal vs Matlock, Witton vs Rushall and AFC Fylde vs hednesford this was not the case.  These matches were postponed because of severe travelling conditions for the away club, this prompted a rather sarcastic tweet from AFC Fylde who were clearly angry that there match had been called off. "Game off here between @AFCFYLDE and @Hednesford_Town #perfectpitch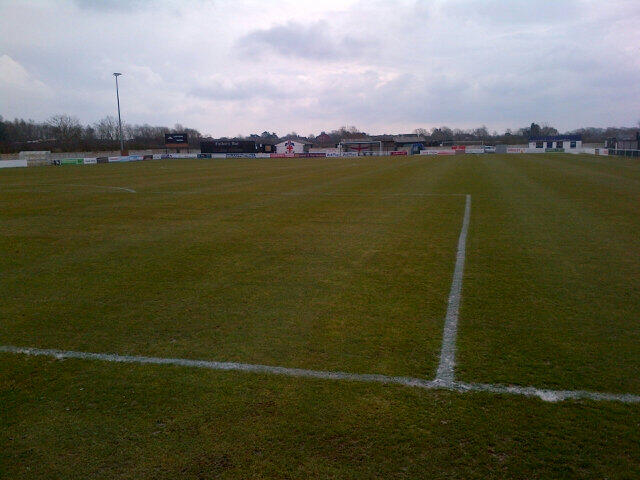 The chairnman of AFC Fylde then made a statement saying "In view of today's cancellation and possibly a further one this Tuesday, we have decided to formally petition the Evo-Stik Northern Premier League to extend the season by one week.
"We understand that this proposal was made by League Operations Manager, Alan Allcock, some weeks ago but at that time it was turned down by the board. However, things have moved on and a number of clubs, such as us, now find ourselves in a very difficult situation. For us it was all brought about in the main, unfortunately, by our successful cup runs in both the FA Cup and FA Trophy.
"Whilst we appreciate there are difficulties and it may not be in the interest of many clubs, especially those who have fulfilled their fixtures already, we believe and hope that pragmatism and fairness will prevail."
It is clear that AFC Fylde feel that if the season is not extended they may well fail to make the playoffs due to their backlog of fixtures. Their players will have to play in several matches a week and this will be hard on them, however the players should be capable of playing these matches and there are other teams in the same situation.
Fylde are pushing for their to be an extension to the league season and some teams such as Hednesford may well back them however some clubs and managers may take a different view and have a more synical approach. Fylde admit themselves that they are in this position because of their successful cup runs. So some people may turn round and simply say well it's your fault for wasting time in the cups and every team is in the same boat in terms of fulfilling league games.
teams shouldn't be discouraged from competing in cup competitions and the weather conditions have been very bad this season so many will sympathise with Fyldes position however every team agrees to an end date to the season and teams have to request for the league season to be extended. Many teams wont do this because of the extra running costs involved, it would be more beneficial for them to play four games in a week than to extend the season by a week.
The manager of Witton albion Brian Pritchard believes Fylde should just get on with it and is against an extension to the season, he said "We shouldn't go a minute past the agreed date," he said.
"I have sympathy with Fylde's reckoning, but I've been in a similar position as a player in the recent past and we were told to get on with it. We even played on successive days a few years back."
Pritchard was on the pitch when Witton, in April 2006, played nine league games in 21 days to complete their programme before an agreed deadline.
They lost six of their final seven matches, finishing eighth.
He warned clubs would have to be careful with spending if fixtures were arranged for the first week in May.
"There are economic factors to consider; players' contracts usually expire in the final week of April, for example. Clubs would have to find an extra week's wages, which might not be easy if they don't have a home game," he added.
"Of course the weather has been a factor this season, and in fairness to Fylde I'd urge people to think back to earlier in the campaign for an explanation as to the problem.
"The FA Trophy calendar had changed this year to fit in the final this weekend, which hasn't helped one bit."
Fylde, following today's postponement against Hednesford, have a dozen league games left.
The Coasters returned to the table's top five following a 4-0 win at Whitby in midweek, the first time they have occupied a play-offs place since October.
Pritchard, whose team's home date with Rushall Olympic also fell foul of the weather on Saturday, warned that a solution should be found for next season, not just this one.
He said: "The Premier Division will have an extra two teams, so the situation could be even worse.
"I've raised this issue, in programme notes and to whoever would listen, but it's just felt like I've been a lone voice."
As a player who has been in this situation before he clearly feels teams should just get on with it.
In my opinion as a Ferriby fan i would be against an extension to the season, many teams in the NPL run on a limited budget and plan very stringently for the entire season. an extension to the season would put strain on the finances of many clubs. Lets face it some clubs will push this more than others e.g. Fylde who happen to be pushing for a playoff place do not want their campaign to be derailed by a fixture backlog.
Ferriby's fixture list isnt as bad as Fyldes as Fylde have played as few matches as anyone. Teams have played on consecutive days in the past and if this has to be done then it should be done because an extension to the season will cause uproar with several clubs.
Next season plans should be put in place to compensate for poor weather so this debate doesn't come up again.
If Fyldes 2022 plan fails they can be safe in the knowledge that they can blame the winter of 2012/2013, ROLL ON SUMMER!
Ferriby Remaining Fixtures
Eastwood March 30th
Blyth April 1st
Cammell Laird April 3rd
Ilkeston april 6th
Nantwich April 13th
Matlock april 16th
Marine April 20th
Ashton April 25th
Chorley April 27th
East riding senior cup final May 7th
Personally I am looking forward to 4 Ferriby games in 8 days, Bring it On
Sam Shepherd